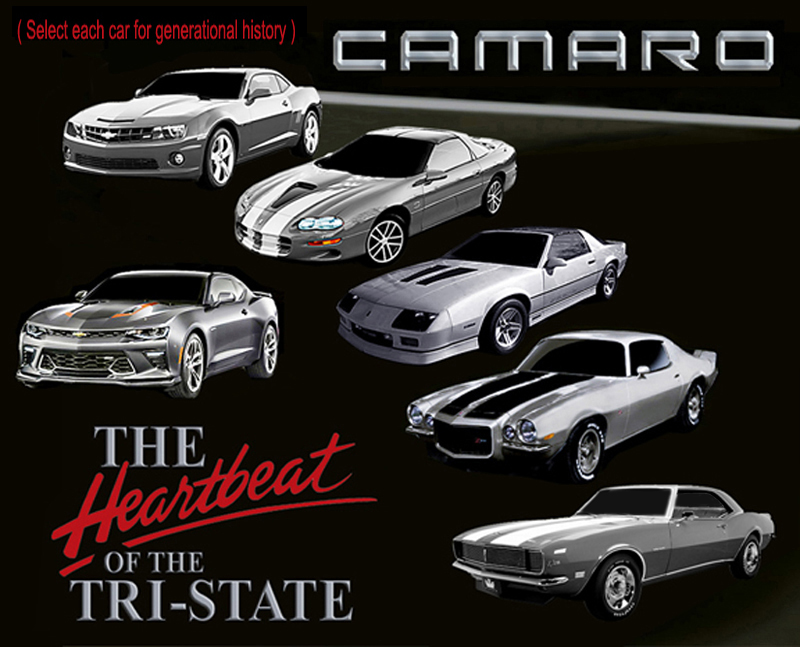 Start planning to attend our all General Motors show next year
Watch this space for more details
The Delaware Valley Camaro Club is a nationally recognized club and a member of the American Camaro Association, the Worldwide Camaro Club and the Association of Chevrolet Enthusiasts. Our membership is comprised mainly of residents from the eastern-Pennsylvania, southern-New Jersey, Delaware and northern-Maryland areas. We have all types of Camaros & Firebirds, ranging from original stock to modified and daily drivers to top-of-the-line show cars. We have a very active club and participate in all types of car shows and cruises year round. Our club organizes the annual "Riverfront Camaro Show" which is held each year on the first Sunday in June on the Wilmington riverfront. In 2015, over 140 Cars attended our show. The proceeds from the Riverfront Camaro Show benefits local and national charities.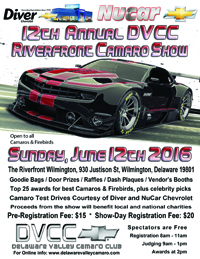 On Sunday, June 12th (Rain Date) we held the Delaware Valley Camaro Club's 12th annual Riverfront Camaro Show at the Shipyard Shops on the Wilmington Riverfront.click on this link or the flyer at the right. >
Our show is dedicated exclusively to the Chevrolet Camaro and the Pontiac Firebird. The event is open to all years Camaros and Firebirds including stock, modified, pro-street, race cars and even daily drivers. Top 25 awards were given for best Camaros and Firebirds, plus celebrity picks. There were also Camaro test drives courtesy of Diver Chevrolet and NuCar Chevrolet.
The top 25 awards as usual, provided a great selection of winners representing all generations of Camaros and Firebirds ranging from restored original cars to pro-street monsters.

Pictures from the 2016 Riverfront Camaro are on the Riverfront Show Page.
For additional information, email our club at dvcccarshow@gmail.com,
or call Allison Stine at 302-381-5565