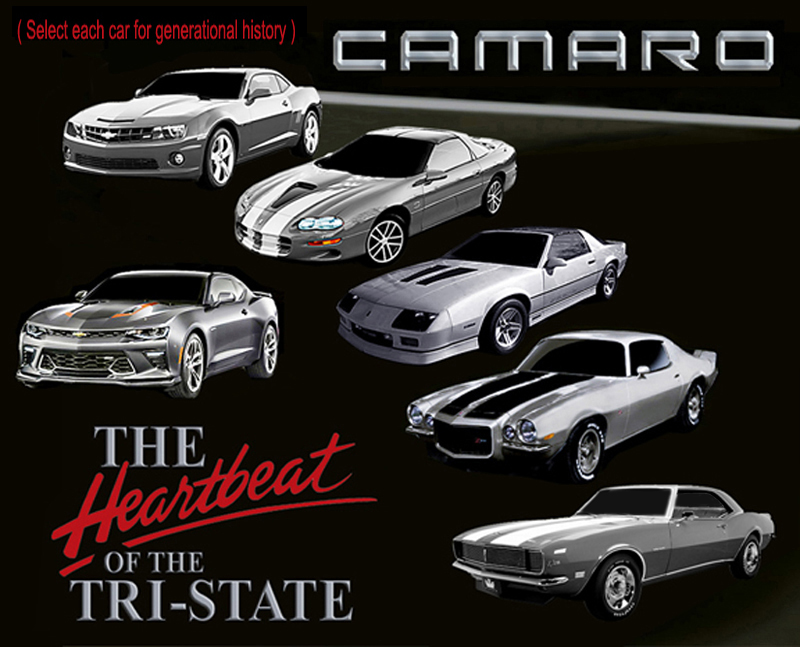 The Delaware Valley Camaro Club is a nationally recognized club and a member of the American Camaro Association, the Worldwide Camaro Club and the Association of Chevrolet Enthusiasts. Our membership is comprised mainly of residents from the eastern-Pennsylvania, southern-New Jersey, Delaware and northern-Maryland areas. We have all types of Camaros & Firebirds, ranging from original stock to modified and daily drivers to top-of-the-line show cars. We have a very active club and participate in all types of car shows and cruises year round. Our club organizes the annual "Riverfront Camaro Show" which is held each year on the first Sunday in June on the Wilmington riverfront. In 2014, over 160 Camaros attended our show. The proceeds from the Riverfront Camaro Show benefits local and national charities.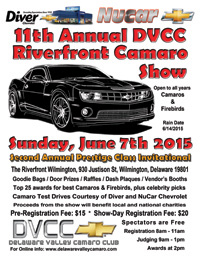 On Sunday, June 7th (rain date: June 14th), the Delaware Valley Camaro Club will host its 11th annual Riverfront Camaro Show at the Shipyard Shops on the Wilmington Riverfront.
Our show is dedicated exclusively to the Chevrolet Camaro and the Pontiac Firebird. The event is open to all years Camaros and Firebirds including stock, modified, pro-street, race cars and even daily drivers. Top 25 awards are given for best Camaro and Firebirds, plus celebrity picks. There will also be Camaro test drives courtesy of Diver Chevrolet and NuCar Chevrolet. For more details, please click the image at the right for a printable flyer and pre-registration form.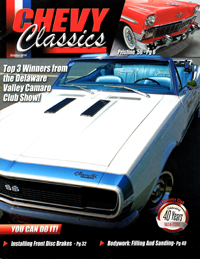 Back again this year is the Prestige Invitational which will be celebrating Camaros and Firebirds that are maintained to factory original specifications
and in a high level of condition. The Prestige class will be available to pre-registered 1st, 2nd and 3rd generation Camaros only. Registration fee will be $30 for the "Pretige" class and participants must be pre-registered and selected prior to the day of the show. Judging in this class will be on a 300 point system based on originality, factory correctness and overall presentation. The top three winners will be featured in Chevy Classics Magazine. If you would like to see the winners of last year's event, as well as a sample of their articles, please click on the image at the left to sample Chevy Classics coverage of the show.
To submit your Camaro for consideration to enter the "Prestige" class, send at least 5 high resolution photos (2 engine, 1 three-quarter front, 1 three-quarter rear and 1 interior) and a short description of your Camaro to the following e-mail address: pjam208@gmail.com

The top 25 awards as usual provided a great selection of winners representing all generations of Camaros and Firebirds ranging from restored original cars to pro-street monsters. To see results and pictures from the 2014 event, head over to our Show Page and Awards Page.
We at DVCC look forward to seeing everyone and their amazing cars this year on Sunday, June 7th, 2015.
For additional information, email our club at: delawarevalleycamaroclub@gmail.com or call Allison Stine at 302-381-5565